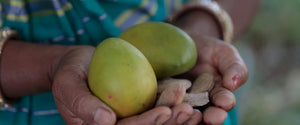 CHANGEMAKING FOR COMMUNITIES
"I don't just see shea body butter. I see a school, a clean well, awareness clinics. I see women coming out of poverty."
Dame Anita Roddick
FOUNDER OF THE BODY SHOP
WE ARE DRIVEN TO CREATE POSITIVE CHANGE IN THE WORLD
Every purchase you make and every action you take with us, however big or small, is also an act of positivity beyond our bodies.

It's a crucial part of a chain of change, locally or globally.

Our trade is, quite simply, a way for us all to drive for, and participate in, greater social equity.

It means that what you do with us really, really matters to us, to you and to communities.

Here are some examples of how you help us to create real change:
COMMUNITY FAIR TRADE
The Body Shop spearheaded change with the pioneering Community Fair Trade  programme. It's the hero of our community change initiatives. 
We trade with 19 producer groups in 15 different countries, impacting the lives of thousands of people every year (60% of whom are women from low-income backgrounds). 
It's a programme we set up in the 1980s and we couldn't be prouder of the change it helps bring. 
Learn More
B-CORP
If we want to encourage change, we must lead by example. 
We can't help to forge a path if we don't set the tone. 
So, we do. 
We are a B Corp. 
COMMUNITY FAIR TRADE RECYCLED PLASTIC
We're committed to tackling the plastic crisis differently. 
We're fighting for people and the planet with Community Fair Trade recycled plastic from Bengaluru, India. 
This trade helps empower the waste pickers we support with access to more sanitary working conditions, a fair price and the respect and recognition they deserve. 
Learn More
RESPECTING HUMAN RIGHTS
It's well known that we are passionate about animal rights, but we know that some ingredients and materials used in the beauty industry have a high environmental and human price. 
We do not touch them. And we never will.
Those precious seven ingredients
MICA
SUGARCANE
SOY
COTTON
COCOA
WOOD/PAPER
PALM
And because we stand up for what we say - and we want to be part of the solution, not just another brand taking oxygen out of the room - we are also founders or members of several key 'responsible sourcing' organisations:
• Ethical Trading Initiative (founding member)
• Global Shea Alliance (founding member)
• Responsible Mica Initiative
• Roundtable on Sustainable Palm Oil (founding member)
• World Fair Trade Organisations
ACTIVISM. DRIVING TOWARDS A FAIRER WORLD FOR ALL
Activism is in our DNA. We are the original activist brand.
Anita Roddick understood the power of shared beliefs and collective action. Of joyful radicalism.
We always rally our collective around activism campaigns that seek to bring about the kindness and fairness we want to see in the world.
ACTIVISTS SINCE DAY ONE
We've campaigned, and helped change laws, alongside brilliant rights activists, against human trafficking, to stop animal testing, to end the burning of rainforests, and to deepen awareness of the AIDS crisis.
Not bad for a brand that sells shampoo and face masks.
Our activism is what sets us apart.
YOUNG PEOPLE ARE PART OF THE SOLUTION
You can read about our 2022 changemaking Be Seen. Be Heard. campaign, to help raise youth voices in the corridors of power.
WE ARE ON A JOURNEY
But one thing is set in stone, everything we are doing is geared towards helping to make our world a bit fairer and a bit more beautiful, each and every day.
And creating real change. For you. For us all.
So, every ingredient we use and every new product we create is there because it works hard for your body, without compromising on safety and ethics.
And we will never lose sight of that.
At any cost.
VEGAN PRODUCTS
Discover our skincare, body care and haircare vegan products.
Shop Now
MOST LOVED
Introducing our most wanted, most loved beauty products for your hands, skin, lips and hair - they're bestsellers for a reason. 
Shop Now
NEW
Say hello to the new kids on the block. Discover new arrivals from fragrances to skincare and makeup must-haves.
Shop Now